Sup peeps?
Yesterday I went out with my friends Janine (who I hadn't seen in at least 2 years), Monte, & Z (I'm calling her Z because god help me I dont know how to spell her name lmao). We went to H Mart (Korean megamart), then hightailed it to the mall for some ridiculous fun.
Makeup Used:
. Revlon Colorstay Foundation [400 Caramel]
. Covergirl Invisible concealer [Honey]
. L'Oreal Wear Infinite Matte Shadow [Bark]
. Mary Kay Signature Velvet Mousse Cheek Color [Rosy]
. Jordana FabuLiner [Black]
. wet n' wild MegaVolume Mascara
. wet n' wild Lipstick [512A]
OOTD
►►│
Z → Janine → Monte
This amused me probably more than it should have xD
Janine ♥
The wind coasted this box straight into the parking space. It was a good space too! I hope no one wanted it~
Coco Bun!
Thai Bubble tea!
Tried on some shoes.
This is how you wear lingerie. Get with it, peeps.
Monte is a master cameraman, guys. Watch out xD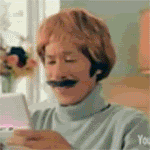 I leave you with moustaches~ ;D
Til next time,
► Alex